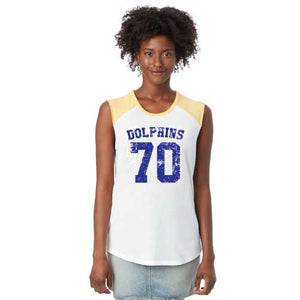 Celebrating 50 years since Ric first created Dolphin Project on Earth Day 1970 in Bimini. Still working every day to help dolphins in need around the world.
This shirt is discontinued. Inventory is limited and exchanges may not be possible.
Environmentally friendly phthalate-free soy inks are used for the printing of this t-shirt.
Specs:
50% cotton, 50% polyester
Vintage jersey
Color blocking at neckline & shoulders
Raw edge sleeves
Dolphins 70 distressed design on front chest in navy blue
Alternative Apparel brand
Retail fit.